skirt: thrifted / top: thrifted / belt: thrifted / flower brooch: Ruban Cassette / sandals: Spring
So, tell me, are you a thrift shopper?
I am newly converted to this way of looking at my clothes and I love when an outfit like this one has such a high thriftiness percentage! Tomorrow I will be posting about how I started thrift shopping, but for now I can tell you a story that exemplifies why thrifting is such a good idea:
This skirt was in store at Urban Outfitters last Fall. I swooned over it, tried it on, loved it, thought it was too expensive (60$) and left. After Christmas it went on sale half price and I was still swooning, but had to pass. Then a few weeks ago: BAM! I find it in my size at the thrift store for 6$. Like a little gift from life! Just one of the many many reasons why I love thrift shopping SO much:)
When I thrift shop these days I'm really looking for colors and textures and this top enticed me so much the moment I laid eyes on it. I thought it would be such a great item to remix all year long. I'd say that makes a 3$ well spent. Same could apply to this belt, that I received as a gift almost ten years ago (and was thrifted at Goddwill!).
Hope you have a great Thursday sweet readers!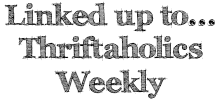 Photos by my friend Sophie